Recipe for Summer Fun: Benefits of Teaching Kids to Cook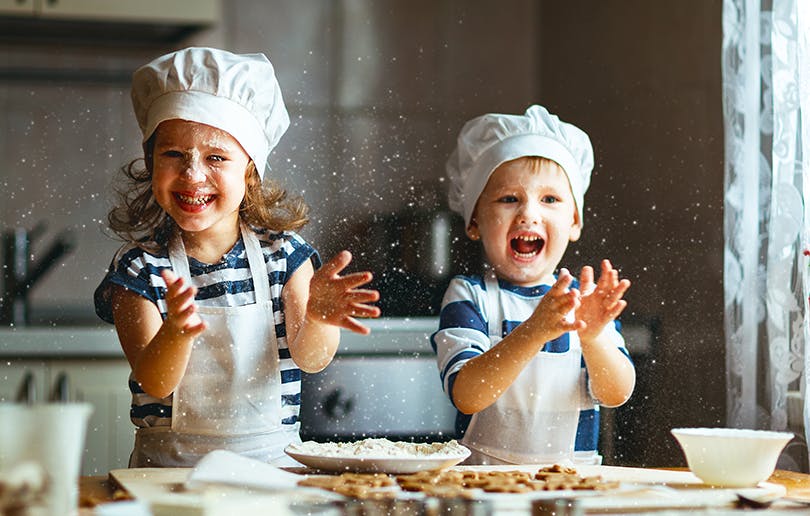 2019-05-26
As a parent, sometimes it's stressful to make sure that your kids are always eating healthy, well-balanced meals. With our fast-paced lifestyles of going to school, working, and doing extracurricular activities, it's tough to squeeze in time to cook. But cooking is one of the most important skills your child can learn. It's delicious, creative, and fun! Here are just a few reasons why teaching your kids to cook is a great idea this summer:
It's an important life skill. Once you teach basic cooking skills to your kids, they'll be able to make a variety of healthy meals once they've left the nest. You can also pass down some great family recipes from generation to generation.
It eliminates picky eating. Is your child a picky eater? Bring them to the kitchen! It might be tough at first, but once they try different foods and take the time to prep meals themselves, they'll turn into little foodies.
It's educational. With reading recipes, counting, doing fractions, and more, cooking makes school subjects like reading and math fun and exciting!
It eases the stress for parents. You might think that letting your little ones in the kitchen will make more messy work, but teaching your kids to cook can save you a couple nights of cooking a big meal. Sit back and relax after a long day while the kids take care of dinner!
It's fun! Cooking can be a fun, creative outlet for anyone – and it's a great activity for your kids to get into this summer! CG's hosting another bi-annual Kid's Cooking Class on Saturday, June 8th! What better way to kick off summer fun than with a delicious good time here at Caffe Gelato? We'll be making wood-fired wings, Elvis s'mores, and more! Give us a call at (302) 533-0201 or sign your kids up online at https://caffegelato.net/special_events/kids-summer-cooking-class. Ages 5-12 are welcome, and you'll be able to take dinner home.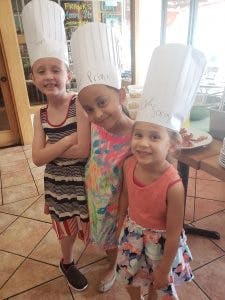 Want to try a new recipe for your kids in the meantime? Try CG's famous Raspberry Blondies – the perfect summer treat!
Raspberry Blondies (approx. 16 servings)
Ingredients:
½ cup sugar
3 eggs
1 2/3 cups flour
1 tsp. vanilla extract
1 tsp. baking powder
2/3 cup butter, melted
8 ½ oz. white chocolate, chopped
3 oz. raspberries
Directions:
Preheat oven to 350 degrees. Grease and line an 8in x 11in baking tray with parchment paper. In a mixing bowl or stand mixer, combine sugar and eggs until well blended. Then add flour, vanilla, and baking powder and mix well. Next, mix in butter and chocolate. Pour batter into prepared baking tray and spread it evenly with a spatula. In a microwave-safe bowl, microwave berries for 30 seconds or so to soften. Hulk smash the berries with a fork and spoon them over top of the batter. Using a skewer or knife, swirl the raspberries through the top of the batter. Bake blondies for 20-30 minutes or until a toothpick or skewer comes out clean. Allow to cool completely before removing and cutting. Serve blondies with a scoop of CG's tasty vanilla bean gelato!