Caffe Gelato Blog – Spring Eggs-citement! Can't Miss Things to Do in the Area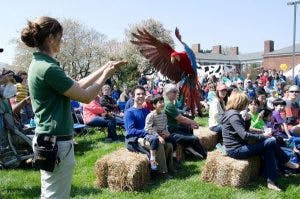 2019-03-26
Winter days be gone! It's the end of March and signs of spring are finally starting to pop up. Now's the time to enjoy basking in the sun and being out and about. If you're itching to get out of the house but aren't sure what to do, we've got you covered. Newark and the surrounding area have TONS of things to do during the spring (even on rainy days!) so you and your family can take full advantage of this gorgeous season. Read below for a full list:
You're never too old for an Easter Egg Hunt. On Saturday, April 13th, grab the kids and join the city of Newark as they host their annual Egg Hunt over at White Clay Creek's Carpenter Recreation Area. The fun starts at 10am and the rain date is Sunday, April 14th. Head over to newarkde.gov/669/Egg-Hunt for more info.
Do some volunteer work. I know, doing work on your off time doesn't sound like fun at first, but doing work for the community is always rewarding! The city of Newark is holding a spring community cleanup on Saturday, April 6th to celebrate Earth Day. If you're looking to get some volunteer hours for your club, or you just want to make Newark a little cleaner, mark your calendar for Newark's Spring Cleanup! (https://newarkde.gov/671/Spring-Community-Clean-Up)
Head over to UD's Ag Day! Ag Day is a much-loved event here in Newark. From beekeeping exhibits to handmade crafts to cute animals, Ag Day celebrates Delaware's farms and sustainability. Over 8,000 people attend annually. This year it's on Saturday, April 27th, and admission is always free! You can also check out their website at https://canr.udel.edu/ag-day/ to learn more about it.
Fill your weekend with some wining and dining. Dazzle your taste buds and join CG during Downtown Newark's Wine and Dine on Saturday, March 30th from 12-5pm. Taste wines from around the world and pair a glass with one of our fresh artisan pizzas. Use the hashtag #NewarkWineDine on social media and be sure to tag #caffegelato!
Explore Winterthur's new exhibits. Winterthur's gardens are in full bloom this time of year. Stop by on Saturday, April 13th to see their beautiful daffodil display as part of their "Daffodils and Follies" event. Kids will love the daffodil arts and crafts! You can check out all of their events here: https://www.winterthur.org/visit/calendar/
Come to CG's Spring Painting Party! Discover your inner artist while indulging in a 4-course dinner on Thursday, April 18th at 6:30pm. Reserve your spot online at https://caffegelato.net/special_events/spring-painting-dinner-party.
Need a nice spring treat? Grab a scoop of CG's gelato on your way down Main Street! Enjoy one of our twelve delicious flavors and get BOGO 50% off a scoop when you mention this blog (offer valid until 4/22/19). Check out our newly-renovated gelato bar and call (302) 533-0201 to make a reservation!