Thanksgiving Catering - 2020
Why cook? Enjoy Thanksgiving!
This Catered Thanksgiving dinner generously serves 8-10 with plenty of leftovers for only $269.
There is also a half-order option with quantities adjusted for 4-5 people for only $149.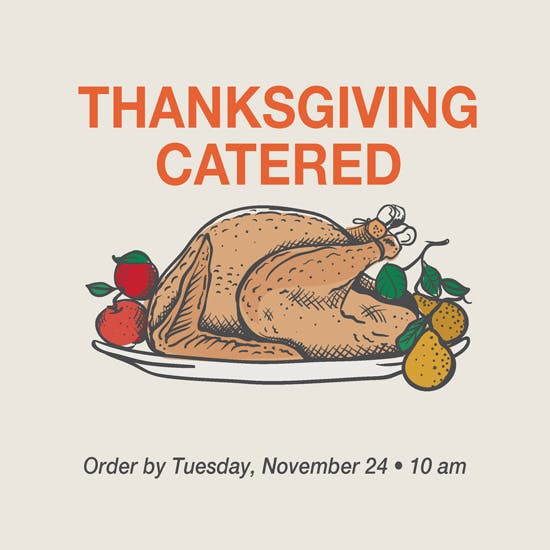 Order by Tuesday November 24th @ 10:00 AM!
Call 302-738-5811 or order below.
Includes:
Oven Roasted Turkey Breast (9 pounds)
Savory Mashed Potatoes (1 quart)
Whipped Sweet Potatoes with Cinnamon (1 quart)
Sun-Dried Tomato and Basil Stuffing (1 quart)
House-crafted Ravioli served with nutmeg cream sauce (30 pieces)
Thanksgiving salad with mixed greens, sun dried cranberries, goat cheese, candied walnuts paired with apple cider vinaigrette (1 bowl)
Steamed Broccoli with Lemon and Parmigiano (2 quarts)
Butter Braised Brussels Sprouts (2 quarts)
Green Bean Almondine (2 quarts)
Crisp Pancetta to garnish Brussels Sprouts or Green Beans (2 quarts)
Maple-Glazed Baby Carrots (2 quarts)
Wild Rice with Sautéed Kennett Square Mushrooms (2 quarts)
House-crafted Traditional Turkey Gravy with Fancy Herbs (2 quarts)
House-crafted Vanilla Bean Gelato (2 pints)
House-crafted Créme Brülée Toffee Gelato (2 pints)
Amounts above are for a Full order. Half orders are also available.
Extra helpings $9 per quart, please contact restaurant to order extra helpings
Order Now!