Celebrate Graduation 2020 with catered lunch, brunch, or dinner
May 29, 2020 until June 09, 2020
Graduation 2020 lunch, brunch or dinner for curbside pickup or delivery
Celebrate your Graduate's accomplishments with catering by Caffé Gelato
We've developed some great menus available for brunch, lunch or dinner, for delivery or curbside pickup from May 29th through June 9th.
Menus for are available for 3 or 6 people.
Delivery options include $3 for anywhere within New Castle County.
If you are outside New Castle County, please indicate in comments when ordering and we will contact you with delivery details and fees.
BRUNCH
$59 serves 3 people -- $99 serves 6 people
Blueberry Pancakes, Crème Brulee French Toast (with mascarpone whipped cream, maple syrup), Applewood Smoked Bacon, Roasted Vegetable Quiche, Fresh Sliced Berries, Breakfast Potato Hash
DINNER
$79 serves 3 people -- $139 serves 6 people
Mixed Green Salad (with Shaved parmigiano, Honey balsamic vinaigrette), Maple Rosemary Roasted Salmon, Baked Ziti, USDA Prime NY Strip Steak, Cracked Pepper and Lemon Shrimp, Roasted Brussels Sprouts, Lobster Mashed Potatoes, Peach Cobbler, Vanilla Gelato
ADDITIONAL OPTIONS MAY INCLUDE:
add Graduation Flowers Bouquet - $45
BRUNCH: MIMOSA KIT
add Mimosa Kit (750 ml Bottle of Sparkling, 2 quarts of OJ) $19
add Champagne flutes $2 each
BRUNCH, LUNCH, AND DINNER: WINES
Twomey Merlot – $22
Peter Lehman Cabernet – $11
Josh Cellars Cabernet – $16
Josh Cellars Pinot Gris – $16
Chateau St. Jean Rose – $11
Hob Nob Chardonnay – $11
Please contact us at (302) 738-5811 with your order (see PDF below for details)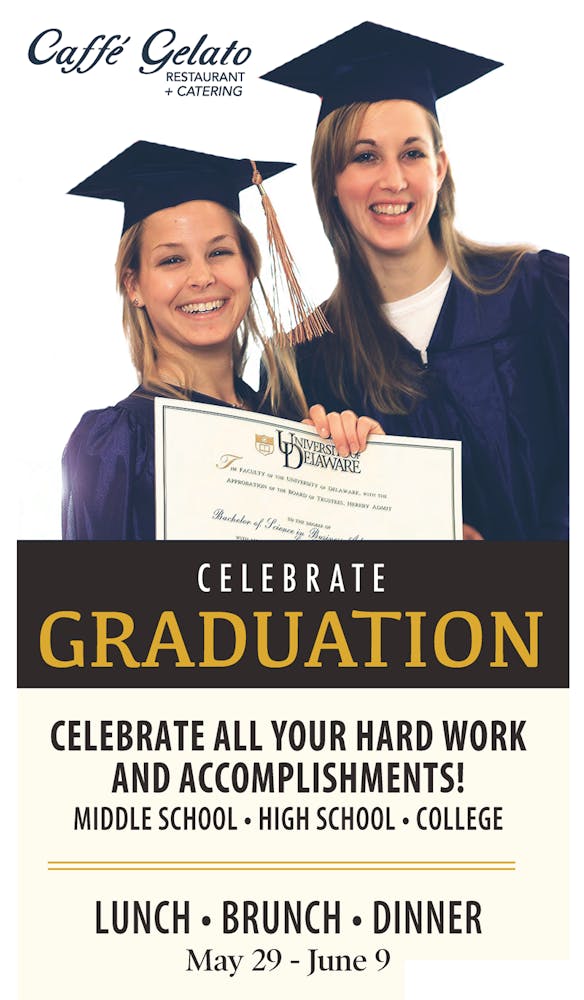 Order Online